If you like the title of this post and you clicked on it, you might be a little curious about travelling the world.
Nobody will judge you here so tell us the truth, do you want to know what is this post about, right?
If your answer is yes, it is because you also at one point in your life have dreamed of packing your bags, buying a one-way ticket and travelling the world.
This post may contain affiliate links. We earn a small commission if you purchase something through the affiliate link.
Pursuing your dream
A dream is a dream, and we don't always pursue our dreams for different reasons.
Travel the world might seem like a very difficult dream if not impossible to realize.
We don't blame you for thinking this way. We currently live in a world which is going very fast and stress comes into our every day lives at a dizzying pace.
We might like our jobs and salary, however, there is pressure for working harder and longer hours every single day. At the end of the day, we live from salary to salary and we don't always enjoy our lives the way we want.
This society makes us believe that in order to be successful in this life, you have to meet certain requirements to not look like a failure in the eyes of others.
Some of these requirements are owning a house or apartment, a permanent job contract, children, marriage, a good car, the latest model of mobile phone and many other things that this society already imposes on us as basics to have.
For many people, some of these requirements has become a long term goal and also dream to make sure that they look successful within society.
Subscribe here to Follow our Adventure!
We believe that it is also simply the fact that your friend has a better car than you and you want to have the same. We envy people having something better than us, better house or great holidays in an all-inclusive resort which can create certain unhappiness and depression.
Just to clarify, we are not criticizing this life model. Having a house or family with kids might be rewarding for many people. Everyone has the right to believe in their dreams and goals whatever they are.
On the other hand, some people might have always dreamed of something different and probably due to the fear they convinced themselves that this life model structured by society is also their dream.
If you keep reading until this point, it is basically for 2 reasons:
You are thinking that we are totally crazy!
Somewhere in your mind, you have a crazy desire to travel and you don't know where to start your trip around the world.  You might also think that the society we live in doesn't allow you to follow this crazy idea of the one-way trip and you want to know how we did it.
If you chose the first option, well, the truth is that we are a little crazy in our own way:)
If you chose the second option,  you already had this dream of travelling the world in your mind. It is in your mind and body, you can't think about anything else and you just want to live the way you want.
Main Factors which might stop you from Travelling the World
Some or all of these factors might block you from achieving your dream and travel the world.
Fear, Judgment, Time, and Money are probably the main points you have to deal with if you plan to travel the world.
Our Personal Tip for Travel Insurance:  For trips of your life, we recommend you this travel insurance for Travel nomads – World Nomad. We got a great deal for our dream trip as World Nomad can adjust the travel insurance based on your needs and destinations.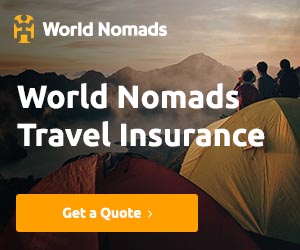 FEAR
Of course, fear is one of the major factors to stop you from travelling.
There are different types of fears that always lead to the same direction. Fear creates insecurity and at the end, you decide to postpone or cancel your trip.
In your mind, some of these questions will pop out:
How am I going to live without a house? With no friends? Will I find a position in society when I come back?
From our perspective, the answer is always quite simple, YES!
You will be fine living without a house for a while, your friends live their lives and the real friends will stay by your side forever and the society? Well, it is really that important?
One piece of advice is also to start thinking about the PRESENT and what is happing in your life right now!
It is part of the Buddhist technique that many cognitive psychologists adopt in their sessions. In a nutshell, the past is already gone and we can't longer do anything with it. The future is unpredictable and although we try to plan it, it is impossible to know what is going to happen.
So why don't you start thinking about what makes you happy now and forget everything else?
You will see that all these fears and insecurity will fade away.
You might you notice that there are thousands of people who travel the world and they are happy with their lives. Especially when they decide to come back to their 'normal' life, they have extraordinary life experience and memories forever.
JUDGMENT
Another important factor to stop you from travelling is a judgement.
We live in a society where the judgment of others is very important, maybe even essential for some of us.
The great example is social media. People constantly writing and sharing their 'perfect' life they are living.

Subscribe here to Follow our Adventure
In case you want to travel the world, there are two types of judgments:
The judgment from Family members, friends, colleagues
For most of us, the judgment from family or friends is very important.
They always want the best for us however many times a simple dream of travelling the world can look like something crazy and immature in their eyes.
Let us ask you a question:
Don't you think that life is yours and you should follow your dreams whatever they are?
To be honest, our decision to travel the world was not accepted very well at the beginning. In their eyes, we are leaving everything behind, our Careers and great future ahead.
We can say that they did not understand our dream, however, with the time, they realized that this is our life and we will go travelling with their approval or without. Few weeks before our life trip, both of our families and friends are actually excited with our adventure and they support us on this great journey.
Judgment of yourself
This part is also essential to get what you want. Your personal judgment always impacts your decisions, it generates fear and it will not allow you to realize your dreams.
This is not just for your world trip but in all areas of life. When you start questioning everything that you are doing, it will have a huge impact on your life and decisions.
Remember we are only humans and we can make mistakes. The biggest mistakes will only make you stronger. So start living fully and judge yourself less. Don't be afraid to make mistakes, there is a whole world to explore!
TIME
The current society is going very fast and we just try to keep up with the speed. We always postpone our dreams for later due to the lack of time.
Overall, our perception is that we don't have enough time in a day to do everything we want.  The truth is that we have only one life, and nobody knows when our time will end.
So if we already know that we live with a timer which is accumulating minutes, hours, and years, why don't you stop for a moment and make your dreams come true?
MONEY
The last factor which might stop you from travelling is money.
In your head, you are probably thinking about TRAVEL = SPEND A LOT OF MONEY.
When you are going on your only holidays for 2 weeks, you are going to enjoy it to the fullest and probably spend a lot of money.
Travelling during a whole year or full-time, it is very different than going on 2 weeks vacation.
Over the last years, we read a lot about full-time travellers and we can assure you that there are millions of ways to realize your dream and travel the world.
Save Money
The best option for us was to start saving money.
It may seem difficult but it is the most common way for many world travellers. Start saving money for your trip will also help you to change your mindset which you will need when travelling on a tight budget.
You might start thinking that it is impossible to save money as there is nothing left from your salary to save. Well, it is possible!
Stop buying new clothes, shoes, bags, phones or decoration for your house, trust us you already have everything you need. For sure, you want to have the best phone on the market, however, instead of buying 1000 EUR mobile phone, you can also get one for 300 EUR with exactly the same functions and apps.
Now eating out was a hard one for us, as we love exploring new cuisines and going to amazing restaurants. We basically reduced it to the minimum and went to restaurants only for special occasions like birthday or anniversaries.
Our Personal Tip: What helped us was a simply Piggy Cash bank which you cannot easily open and take the money. It is quite a funny way how to set money aside.
Work during your Trip
There is a possibility to travel the world without money – you can work during your trip.
Many people travel the world and work at the same time. You have famous travel bloggers or nomads who make money on the way.
Other people just stop somewhere and work for some period to be able to continue their trip. Some people teach English or work for food and accommodation. There are many possibilities to travel the world without saved money, it just depends on what is your personal preference.
We opted for the best option to save money before the world trip and travel until we have resources.
Our Personal Confession
If you already follow our blog for some time, you might already know our SECRET.
We already bought a one-way ticket to travel the world and we are super excited to start our adventure in October 2019 in Chile!
We can assure you it was not an easy journey to get to this point. We had to go through different stages, our fear, judgement from us and others, lack of time and not enough money.
Although we both work for good companies, we have reached a point that we really need a total and complete change in our lives.
We want to follow our dream and travel the world for a while until we feel like it.
Doubts?
To be honest, we had some doubts a few times if we are doing the right thing. Especially at the beginning when our families and friends did not understand how can we leave our lives, jobs and Careers behind to travel the world.
Together we have realized that what we really want is a break from everyday life.  We just want to travel the world without thinking about the past or future. We live now in a present so let's enjoy life!
What is next?
We are still in Amsterdam, we are packing whats left from our clothes and personal belongings and at the beginning of September, we are heading to Prague (Michaela's hometown).
Prague will be our starting point where we start our crazy project!
As we mentioned our journey around the world start in October 2019 in Chile, so if you are interested in our trip, follow our blog and social media so you won't miss anything from our adventure.
If you are thinking about travelling the world and you have doubts, lets us know if we can help you to give you some advice or information. We will be happy to answer as soon as possible.
Well, Let's GO FOR IT!
WE FOLLOW OUR DREAMS and TRAVEL THE WORLD!!!
OUR JOURNEY STARTS NOW!
If you like our post and you would like to receive Weekly Travel and Food Tips, subscribe below to follow our adventures
Subscribe to get weekly updates and 21 BEST TRAVEL APPS
KEEP READING OUR MOST POPULAR POSTS: 
One Day trip from Amsterdam: Utrecht
35 Amazing Restaurants where you have to eat in Barcelona
Top 5 Secret Places in Barcelona
PIN IT
*** version en Espaňol***
Si has llegado hasta aquí es porque tienes un poco de curiosidad. Venga, nadie te va a juzgar en nuestro blog 🤞🤞🤞
¿Quieres ver de que va el post ,verdad?
Si la contestación a esta pregunta es un si es porque tu también en un momento dado de tu vida has soñado con hacerte la maleta, comprar el primer billete a una destinación de ensueños y enviar todo a .. m….. otro momento 🤪😜.  Os puedo asegurar que este  sueño caros amigos no es tan difícil de alcanzar.
Probablemente hasta ahora sigas pensando que sea un sueño muy difícil si no imposible de realizar y no te culpo por esto.
Claro amigo mio actualmente vivimos en un mundo que va muy rápido, muchas informaciones y estrés llegan a nuestra vida cada dia a un ritmo vertiginoso; nuestros trabajos aunque parece gustarnos nos os impone horarios y ritmos insostenibles con un salario que llega siempre justito ( esto porque mas tenemos, mas queremos, y mas gastamos )y no nos permiten disfrutar de la vida como mas nos gustaría.
Esta sociedad nos hace creer que para realizarse en la vida tienes que cumplir algún requisitos para no resultar un fracasados a los ojos de los demás.
Algunos de estos son: una casa de propriedad, un trabajo a tiempo indeterminado, hijos, un buen coche, una familia modelo tradicional, el ultimo modelo de móvil y una infinidad de cosas que este sistema nos impone ya como básicos.
Por muchos tener todo esto se ha vuelto como un sueño de alcanzar aunque sea a largo plazo. Todos queremos parecer iguales o mejores que otros, de hecho  seria mas o menos así según nuestras ideas : este tío vive mejor que nosotros y yo también quiero todo esto o mas.  Justamente este pensiero de querer siempre mas genera en nosotros una utopia que transforma este pseudo sueño en infelicidad y depresión.
Ok, relajaos,no es una critica a este modelo de vida, no quiero decir que sean conceptos equivocados. Tener un hijo o una casa de propriedad puede que sea algo gratificante y cada uno tiene el derecho de creer y hacer lo que mas quiera.
Sin embargo muchas personas probablemente siempre han soñado con algo diferente o al igual extravagante y por miedo a parecer diferentes se han alineado a esta idea de vida ya estructurada por la sociedad y se han convencidos que este modelo es también su sueño.
Si has llegado hasta aquí es básicamente por dos motivos:
Piensas que estamos totalmente locos 😝
En alguna parte de tu corazón o cerebro tienes una gana loca de viajar y no sabes como hacer porque piensas que el sistema en que vivimos no te lo permiterá.
Si has elegido la primera opción , bueno, si, la verdad es que estamos un poco locos 😝, estamos locos a nuestra manera 😹😹.
Sin embargo si has elegido la segunda opción amigo lector pienso que tu como nosotros de funfoodtravelling alguna vez has soñado con viajar en cualquier lugar del mundo si tener que pensar a nada y vivir la vida como mas te apetezca.
Probablemente algunos factores ( o todos) que te vamos a escribir ahora te bloquean en alcanzar tu sueño .
El miedo, el Juicio,el tiempo, y el dinero son probablemente los puntos básicos que tienes que tratar si piensas viajar sin billete de vuelta.
MIEDO
Claro el miedo es uno del los puntos  básicos  en porque te resistes en viajar.
Hay diferentes tipos de miedos que conducen siempre a la misma dirección ,te crean inseguridad y es por esto que decides aplazar o cancelar tu viaje. Dentro de ti pensaras continuamente ¿Como voy a hacer sin casa?¿Sin trabajo? ¿Sin amigos? ¿Encontraré una posición en la sociedad cuando volveré? Y aunque la respuesta hasta ahora a sido siempre no, es en realidad un simple SI.
Un consejo que te puedo dar es empezar a pensar en el presente y en el ahora. Esta es una técnica Budista que adoptan muchos psicólogos cognitivos en sus sesiones. En pocas palabras, el pasado ya está y ya no podemos hacer nada con eso e el futuro es imprevisible y aunque seguimos pensando en ello seguirá un misterio.
Entonces ¿Porque no empiezas en pensar a  lo que te hace feliz de verdad y te olvidas de todo lo demás?
Veras que todos estos miedos e inseguridades se irán desvaneciendo poco a poco. Si notas hay miles de persona que viajan por todo el mundo y están felices y realizados con lo que hacen dia a dia y cuando deciden volver tienen algo que es impagable en esta sociedad: una increíble experiencia de vida que acordaran para siempre.
JUICIO
Otro factor importante es el juicio. Vivimos en una sociedad donde el juicio de los demás es importante si no esencial para nosotros. Por ejemplo las redes sociales lo demuestran.
¿Porque piensas que las personas están continuamente escribiendo o mostrando sus vidas perfectas online ?
Estamos hablando de dos tipos de juicios:
1. El juicio de familiares, amigos, compañeros de trabajo
Por la mayoría de nosotros es importantísimo el juicio de estas personas. Siempre quieren el bien y lo mejor para nosotros sin embargo un simple sueño de viajar por el mundo sin billete de vuelta puede parecer a sus ojos algo de locos, inmaduro o totalmente descabellado.
¿No te parece que tienes que vivir como mejor crees  ya que la vida es la tuya?
Al principio no te preocupes  si no te entienden y no aproban tus sueňos el tiempo te dará  la razón.
Asi que olvídate del juicio y empieza tu propia aventura 👍👍.
2. Juzgarte a ti mismo
Esta parte es también fundamental para conseguir lo que quieres.
Juzgarte a ti mismo  siempre  te va afectar en tus decisiones , te genera el punto que ya hemos mencionado antes (Miedo) y no te deja realizar tus sueños .
Esto vale para todos los ámbitos de tu vida. Cuando empiezas a hacerte preguntas y paranoias sobre este y el otro, recuérdate que somos humanos y podemos equivocarnos y hacer errores. Los errores que tanto te asustan te ayudaran en tu vida y te fortalecerán.
Asi que: Empieza a vivir mas y juzgarte menos, y sobretodo no tengas miedo en hacer errores  (no errores=No exito).  Hay un mundo entero que explorar asi que va a  por todo y olvidate del juicio en general.
TIEMPO
La sociedad actual va muy deprisa, nosotros intentamos seguir este paso y aplazamos siempre nuestros sueños porque nos parece  que por alguna razón no tenemos suficiente tiempo.
Trabajo, familia, amigos, gym, aperitivo , dormimos y repetimos dia tras dia, y así nuestras jornadas se acaban y nuestros deseos se van desvaneciendo.
Seguimos pensando que no tenemos tiempo e en cierta forma es verdad.
El tiempo es una de esas cosas que no se puede recuperar, nadie sabe cuando nuestro tiempo se acabará, porqué, aunque no nos guste un dia o otro se terminará.
De hecho es probablemente la única cosa segura que tenemos en esta vida y de la cual no podemos hacer nada.
Entonces ¿Si ya sabes que vives con un timer pegado a tu espalda que va acumulando minutos, horas, años, porqué no te paras un momento y haces de tus sueños realidad?
DINERO
El ultimo sin embargo pero no el menos importante. En tu cabeza tienes este sistema planteado (VIAJAR=GASTAR MUCHO DINERO).
Puede ser que si te vas de vacaciones a corto plazo este sistema valga para todos, normalmente  para disfrutar al máximo en un tiempo limitado gastas un monton de pasta.
Sin embargo Viajar es muy diferente que ir de vacaciones.
Durante estos años estoy siempre mas metido en el mundo de los Viajeros (travellers) y te puedo asegurar que tienes millones de maneras para realizar tu sueño. La primera opción es la que hasta hora hemos adoptado e es simplemente ahorrar.
Te podrá parecer dificil pero es la más común entre los viajeros y te ayudara en administrar tu dinero en tu futuro descabellado viaje.
Esta opción es útil en cuanto te quitas las cosas superfluas y materiales que antes te podrían parecer imprescindibles como ropa, cenas en restaurantes etc. y te empiezas a crear las bases para administrar tu dinero.
Lo mejor es que te prefijes una base con cuanto dinero quieres viajar y así sabrás exactamente cuanto tendrás que ahorrar en largo plazo.
Acuérdate un punto importante que mas cosas materiales te quitaras mejor. Si en vez de comprarte un móvil de 1000 euro te compras uno de 300 podrás llamar o usar las apps igualmente te lo aseguro 🤑🤪.
Otra posibilidad es de trabajar en tu viaje, muchas personas (los famosos nomades digitales) viajan el mundo y trabajan al mismo tiempo. Otras personas se paran en los varios países que visitan y hacen trabajitos de todo tipo para seguir en su sueño.
Asi que ya sabemos que aunque probablemente requiera tiempo y trabajo, no tienes que ser millionario para comprarte un billete y empezar a viajar donde más te guste.
Consideraciones personales
Si ya nos estáis siguiendo os quiero revelar un secreto 🤞🤫🤪.
Nosotros de funfoodtravelling ya hemos comprado un billete de sola ida y estamos ya con una loca gana de empezar nuestra aventura.
Os puedo asegurar que no ha sido facil decidirnos y sobrepasar sobre todos esto 4 puntos.
Actualmente estamos en Amsterdam con trabajos buenos pero hemos llegado en un punto que realmente necesitamos un cambio total y completo.
Vamos a dedicarnos a viajar, descubrir todo y hacer de nuestro sueño realidad.
Hemos tenidos varios momento titubeantes como el primer juicio de algunos de nuestro familiares (que ya ahora nos apoyan por completo 🙏😍)  y que no entendían como podíamos dejar nuestras supuestas carerras aparcadas por un tiempo y pensar solo a viajar.
Juntos hemos realizado que lo que queremos es una pausa sin pensar ni pasado ni futuro y enfocarnos en ahora y en el presente.
Nuestro próximo paso será mover todo a Praga (ciudad natal de Mika coowner de este blog) y empezar nuestro nuevo proyecto descabellado desde ahí (Gracias Amsterdam para todo y hasta pronto).
Si estaís interesados en nuestro viaje, quereis alguna información, consejo o simplemente quereis compartir vuestra experiencia, escribirnos sin problema, estaremos felices de contestar en los mas breve posible.
Síganos para obtener cada semana interesantes consejos de viajes basados en los lugares que visitamos, recetas de cocina fáciles y resultonas y reseñas de restaurantes que hemos probado y nos han gustado.