During our travelling, we learned that there are certain resources, tools or apps which helped us many times during our trips.
Maybe you are just planning the next trip and you don't know where to start.
How to find accommodation, search the best flights or what to take with you?
There is a lot of information about travel resources so it might be confusing for some people to really focus on the information you need for your trip.
On this page, we prepared travel resources, websites, tools or apps we use during travelling and which we would personally recommend to anybody who likes travelling.
This post may contain affiliate links. We earn a small commission if you purchase something through the affiliate link.
Travelling Websites
FLIGHTS
Skyscanner
Skyscanner is one of the best tools to search for the cheapest flights. It is a global travel search site and it is our favourite website for searching the best flight deals.
Jacks Flight Club
Jacks Flight Club is a website which is searching for all the best flight deals. When you subscribe to the newsletter, you will receive cheap flight deals, hidden offers or discount for specific periods.
Holiday Pirates
Holiday Pirates is a website which provides Flight, Hotel or Trip Deals. You can sign up and receive the best deals in your inbox which is a great help.
Google Flights
Google Flights is a great Google tool to search for flight offers and deals. In Google Flights you can see the price per month and when it's in green colour it means that this is the best price during the month.
To get the cheapest flights, here are some of our personal tips:
It is cheaper to have flexible days instead of fixed days as you can adjust your travelling days to the lowest fare
The best day to buy flights it is Monday and Tuesday night. We also recommend to search flights in Incognito window so cookies don't save your latest search.
The rule is, the more stopovers you have, the cheaper it gets, so sometimes to get the best deal, you have to take 2-3 stopovers.

If you don't have to take a big suitcase the best is to take only small approx 10kg luggage. You don't have to wait in the line to check the luggage in and also the small luggage is in the price of the flight. If you have to take a big suitcase, then it's better to buy it online directly with the flight as at the airport is usually more expensive.
Subscribe to GET our List of 21 BEST TRAVEL APPS
ACCOMMODATION
Booking.com
Booking.com is the number one e-commerce platform for online accommodation search. They offer 5 stars hotels, apartments, homestay and basically any type of accommodation you need for your stay.
The availability is online and it is a great website when you arrive at your destination and you don't have accommodation, there is always something available and you can quickly book it through the Booking app. Fast and easy to book and they also have great customer service whenever you are in troubles.
Click here to get 10% of your trip back after your stay.
(function(d, sc, u) {
var s = d.createElement(sc), p = d.getElementsByTagName(sc)[0];
s.type = 'text/javascript';
s.async = true;
s.src = u + '?v=' + (+new Date());
p.parentNode.insertBefore(s,p);
})(document, 'script', '//aff.bstatic.com/static/affiliate_base/js/flexiproduct.js');
Airbnb
Airbnb is basically accommodation marketplace providing a place to stay for any travellers. It can be a shared room with the apartment owner, the whole apartment, room or even hotel. We usually use this platform when there is anything suitable on other websites and we always had a good experience. More about Airbnb and why everyone loves it is here.
Couchsurfing
Couchsurfing is a great platform if you are looking for free accommodation. This platform connects travellers with locals from all over the world. You basically stay in someones ´couch´:) and it is a great way to meet other people. It is for free but its recommended to bring a small gift for the host or show another type of appreciation like cooking a meal.
Hostelworld
Hostelworld is another platform which you can use to find accommodation. They are specialized on hostels so if you are on a budget this platform gives you many options in more than 170 countries.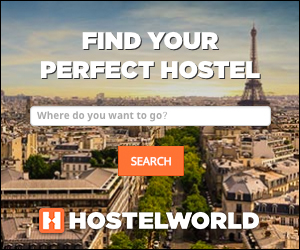 RENTING A CAR
As we travel quite often and we always live in the cities with great public transport, we never felt the need for having a car.
However, sometimes we rent a car, especially when we travel to destinations without or with minimum public transport and when you want to discover more about each destination.
AutoEurope
AutoEurope is for us the number one option as we were always able to find great deals. The website compares all the deals for you so you can just choose what is the best option for your stay.
Read more about this FREE OFFER: Free One Car Class Upgrade
ViaMichelin
ViaMichelin is a great website where you add your travel destination and it will calculate the highway tolls, consumption, km and the time of your travelling. You can easily check what will be the full price of the trip including all expenses.
BlaBlaCar
BlaBlaCar is popular for carpooling service when connecting drivers with empty seats in their cars driving to the same destination. Basically, you share seats in your car with other people who are going to the same place so you share the expenses.
Extra Tips:
eCooltra
eCooltra is actually a platform for sharing scooters. All scooters are electric and they are based in 6 European cities (2019): Barcelona, Madrid, Valencia, Rome, Milan and Lisbon. You will need to download the app and upload your driving license to verify the account. It is very easy to use and a great platform where you pay for minutes.
FlixBus
Flixbus is a bus company which launched in Germany in 2013. They specialized in the long-distance bus travel within Europe and you can get some very good deals.
TripAdvisor
TripAdvisor is a great website for comparing prices and reading reviews about restaurants, hotels, tours and more. We mostly use it for restaurant reviews to search for the best food places in each destination.
GetYourGuide
GetYourGuide offers tours, activities, things to do in each place and more. Ideally, we use it for certain tours like Food Tours or to buy cheaper tickets for sightseeing.
Travel Insurance
When you travel, we definitely recommend travel insurance. You never know when something happens to you and it is important that you feel secure during your trips.
Many people have travel insurance with their credit card, however, we find out that usually, it is very basic insurance and for example, it does not cover high medical expenses. This type of insurance would be fine when you travel for a short period of time and you won't do any adventure sports like skiing for example.
For longer trips and more adventurous travellers, we recommend the following Insurance websites.
World Nomad
World Nomad is travel insurance designed for travellers. You can easily get a quote and choose the best insurance plan for your trip here.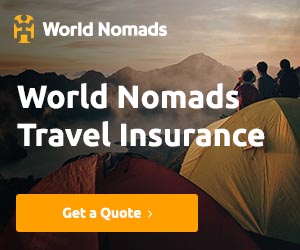 True Traveller is another great website for choosing the right insurance. They offer a variety of insurance plans and it's designed for true travellers.
Credit/Debit Cards for Travelling
Another question can pop up your mind when travelling and it is about using your credit or debit card in different country and currency than yours.
We personally use two different cards when we travel.
TransferWise
TransferWise is popular for transferring money abroad in a different currency than yours. They also offer Debit card which has lower conversion fees and no transaction fees.
You basically download an app and transfer the money through the app whenever you need to pay or withdraw from ATM in the local currency.
Revolut
Revolut is a similar international money service provider as the Transferwise, you download the app and transfer money or withdraw from ATM in the local currency.
We use both cards, but if you want to see the comparison which card is better from a financial expert, click here.
Overall, these are the websites or apps which we use most for our travelling. We believe there are many others which we haven't tried so feel free to comment or contact us if you know about amazing travel resource which we should definitely use for our travelling.
Subscribe to GET List of 21 BEST TRAVEL APPS
Travel Gadgets
The question is: What travel gadgets do you absolutely need for travelling?
We listed a few gadgets here which we always take with us.
GoPro
GoPro camera is a must for us! We use GoPro Hero 4 Silver for videos and photos during our trips and we really love it.


Visit our YouTube channel to see videos like this using GOPRO in Sardinia, Italy:
PC, iPad + keyboard
We mostly take iPad Air with Bluetooth keyboard which we find the best option for us.
We are also using USB Adaptor for Ipad so we can connect different devices and download photos.

128GB SD Memory card
128GB SD Memory card is something you should definitely take with you. During your trip, you will take many pictures and make videos and sometimes there is not enough space.

External Hard drive
We recommend having an external hard drive where you can download your pictures and videos.

Universal Plug Adapter
To make sure you can charge your devices anywhere in the world, a plug adapter is a must for your trip.

Anker Power Bank
Extra Power Bank is absolutely necessary to never be without battery.
Hidden Wallet

It is like a hidden pocket perfect for credit cards, cash money and important documents like passports.
We also use a  security belt for hiding money or cards.

Continue to our most Popular POSTS:
35 Amazing restaurants in Barcelona where you have to eat
Top 5 secret places in Barcelona
FunFoodTravelling PHOTO GALLERY
We have our Best Food and Travel pictures available in Photo Gallery below.
Feel Free to download our pictures whenever you need. We would welcome if you can tag @funfoodtravelling at the pictures or videos.