Today we want to share with you one of our culinary experiences which we had around the world, eating Pufferfish named FUGU as one of the most exotic and venomous food in Japan.
Pufferfish – FUGU
You might know the word Pufferfish, however, the Japanese word Fugu is not very familiar to everyone. In this post, we will use the word Fugu so you know we are talking about one of the most exotic and venomous food in Japan.
This peculiar fish is part of the Tetraodontiformes family and is known for 3 things:
Fugu inflates like a ball when they have to defend themselves or they are scared
Fugu is considered a real delicateness in Japan and  some parts of China
Fugu is a super venomous fish
This post may contain affiliate links. We earn a small commission if you purchase something through the affiliate link.
How venomous Fugu is
In the classification of the most venomous fishes of the planet, the Pufferfish is placed right behind Stonefish.
The difference is that, if you step on Stonefish and the injury is treated quickly, you might still survive. If you eat Fugu which is wrongly prepared, there is nothing else to do.
For this reason, Fugu is one of the most venomous fishes to eat and it is a real adventure.
The most venomous parts of Fugu are contained in its organs and skin. To be able to consume Fugu it needs to be handled by qualified Chefs who obtain a specific certificate after 3 years of studies.
This Japanese course involves several theoretical and practical tests such as recognizing the three species of Fugu. The students also have to eat the same Fugu fish they cleaned and prepared for food.
Although in Japan, Fugu is considered a delicatessen and there are many restaurants where you can eat it, this exotic Japanese food is forbidden to eat by a Japanese Imperial family (you can probably imagine why).
Our Experience with Fugu
When we were going to Japan, we knew that we have to try Fugu as part of our culinary experience.
If you follow our blog for some time, you know that we love to discover new cuisines and try new food especially the most exotic and rare one.
When we tried Fugu in Japan,  it was a unique experience not so much for the taste of the fish but for the whole Degustation ceremony which tasting Fugu brings. The adrenaline which creates this experience of eating something that could potentially kill you.
As you might know, we love to eat anything, anywhere even it is considered disgusting, inedible or illegal. Since we are about to start our trip around the world in South America, we are thinking of creating a specific part at our blog focused only on extravagant, exotic food and for people with a fairly strong stomach.
What do you think about this idea?
Many people ask us if we are not afraid to travel like this eating crazy and venomous food around the world. The answer is NO for one main reason. Yes, we are a bit crazy, however, we always make sure that we are fully covered with Travel Insurance – World Nomad.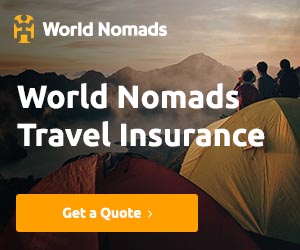 This insurance was created for people who want to travel and explore the world and although so far we did not have any serious problems, travelling with good insurance makes our trip more enjoyable.
Coming back to Fugu 🐡, we have had the pleasure of trying this delight in Kyoto. Kyoto is considered as one of the most important cities in Japan for its history, food and politics.
Without a doubt, we will definitely recommend you to visit this city because it has all its charm and amazing history.
Tip: In Kyoto, we stayed in this great Ryokan – Kyoto Guesthouse Lantern which offered all the necessary facilities and it had a great location.
Fukushin restaurant in Kyoto
The restaurant where we had the pleasure to eat Fugu is called Fukushin and is located close to the historic part of the city.
The family who owns the restaurant was very friendly and professional from the beginning. The most interesting thing was that they did not speak English at all so you can imagine the adrenaline knowing that our life was in the hands of unknown people with who we could not communicate.
Fukushin restaurant offers La Carte or several Degustation Menus which vary based on price and the amount of fish you eat. We chose the Degustation Menu to make sure we can try a bit of everything.
Degustation Menu Fukushin
Our Menu started with a shot of sake with a piece of a fishtail. The liquid in the glass was flamed and you need to drink it very hot. When we swallowed the liquid, our lips started to tremble and in fact, we discovered later on that it was on purpose to make the experience more interesting. You can imagine when our lips trembled, we started to think about the worst 🙂 Really crazy dish!
As an appetizer we were served thin strips of fish cartilage with grated Daikon, onion and ponzu (the technique for grating Daikon is called Oroshi and it is a similar style for grating wasabi).
While we ate the appetizer the owner and Chef prepared the Fugu Sashimi. The presentation of this dish is very interesting because they try to cut it very thin to make the fish transparent in the shape of chrysanthemum, which in Japan symbolizes death. The fish meat is not similar to any type of fish that we have eaten so far, in fact, it is precisely firm and it tastes a bit like a gum.
The next dish was fried Fugu (Fugu Karage) which was delicious. As people say, everything that is fried is delicious.
Our next dish was the Shabu-Shabu or in English Hot-Pot. We were given a bowl of water with parts of fugu, tofu, shiitakes, noodles, vegetables and more. Basically you prepare your own dish by putting all elements in the water and slowly cook them.
After this, they served us a bowl that could be considered a Porridge. To prepare this dish, they used part of the broth which we made before and mixed it all with eggs, rice, seaweed and leeks. It was just delicious accompanied with pickles (daikon, cucumber and fukujinzuke).
We ended up our dinner with ice cream for dessert.
Conclusion
The dinner was very interesting as we were sitting at the bar, where we could see all the culinary experience of the Chefs (father and son).
During our dinner, we tried to explain that Simone is also a Chef and at the end of the dinner the owner showed us all his Japanese knives including recommendation where to buy a good Japanese knife. In fact, we bought a great Sashimi knife in that recommended shop.
Another interesting moment was their surprise in discovering our origins. Nobody ever tasted their food being from Prague or Sardinia so after the discovery, they placed red dots at their world map where they were collecting all visitors.
What can we tell you at the end?
If you intend to travel to Japan, it is a unique experience that is surely worth it. We can say that Japan was our number one trip and we will definitely come back to taste even more exotic food.
Have you also had the chance to try some exotic or very rare food during your trip?
Do you have any rare or exotic food in your country which you want to recommend?
Write to us here in the post or in our email, we will be happy to answer you as soon as possible.
If you like our post and you would like to receive Weekly Travel and Food Tips, subscribe below to follow our adventures

Subscribe to get weekly updates and 21 BEST TRAVEL APPS
RELATED AND MOST POPULAR POSTS:
Suntaka – Hidden gem of Japanese restaurants in Barcelona
7 Non Touristy Things to do in Prague
PIN IT
*** version en Espanol***
Hoy os quiero escribir sobre una de las tantas experiencias culinarias alrededor del mundo.
¿Quien de vosotros conoce el Fugu?
Venga ya, tenéis razón, igual no es muy familiar para todos esta palabra Japonesa. Sin embargo si os voy a decir Pez Globo ya sabeis de lo que queremos hablar esta semana, una de las comidas mas raras en el mundo.
Esta publicación puede contener links de afiliados. Ganamos una pequeña comisión si compras algo a través del link de afiliado.
Este peculiar pescado hace parte de la familia de los tetraodontiformes y es conocido por tres cosas: se inflan como un balón cuando se tienen que defender o están asustados, son considerados un verdadero manjar en Japón y en partes de China y el ultimo pero no menos importante es que es un pescado súper tóxico.
Cuanto es toxico 
En la clasifica de los pescados más tóxicos del planeta el Pez Globo se encuentra en segunda posición inmediatamente después del Pez Piedra. Sin embargo el número uno de la clasifica si es tratado rapidamente puede no causar la muerte, y el Fugu no te da via de escape ☠️☠️.
Su veneno se encuentra principalmente en la visceras y en la parte de la piel. Para ser apto a consumir ya que se trata de una comida bastante rara tiene que ser manipulado por Chefs cualificados que obtienen un carnet después de 3 aňos de estudios.
Esta escuela de comida exotica conlleva hacer varias pruebas teóricas y prácticas como, reconocer las 3 especies de fugu que se usan en cocina en el pais Nipón o comer el mismo pescado después de haberlo seccionado y fileteado.
Aunque en Japón es considerado un manjar y hay muchos restaurantes en todo el pais donde lo sirven os tengo que contar un anedocta: para los miembros de la casa real es totalmente prohibido comer Fugu (ya podeis imaginar el porqué tratandose de unas de las comidas mas raras y toxicas en el mundo 🤪).
Nuestra Experienca con Fugu
Nosotros en nuestro viaje en el pais Nipón no podíamos no haberlo probado, ya que además de estar un poco locos 😜 nos gusta probar de todo y conocer mas sobre las culturas culinarias de los paises que visitamos y sus peculiaridades.
La verdad que fue un experiencia interesante no tanto por el sabor y textura del pescado en si mismo si no por la ceremonia del Menú Degustación que es todo un espectáculo y la adrenalina que te crea la experienca de comer algo que potencialmente te podría matar.
Por cierto a nosotros os gusta comer de todo y probar cualquier cosa, indipendentemente si en nuestros países natales sean considerados asquerosos, no comestibles o ilegales.
Ya que estamos para empezar nuestro viaje alrededor del mundo empezando desde el Sur de America estamos pensando crear una rúbrica en nuestro blog centrada en comida extravagante, rara, exotica y para personas con un estomago bastante fuerte (esperamos que el nuestro aguante 🤪😅😂).
¿Que pensais de esta idea?
Muchas personas nos preguntan si no tenemos miedo de viajar asi un poco a lo loco y la verdad es que NO, ahora os voy a desvelar un secreto 🤫.
Cuando viajamos siempre estipulamos un seguro de viajes con WORLD NOMADS. Son super profesionales y aunque por suerte hasta ahora no hemos tenido ningún problema grave, viajar con una buena compañía que te cubre las espaldas te hace disfrutar del viaje mucho mas.
Volviendo al Pez Globo 🐡, nosotros hemos tenido el placer de probar esta delicia en Kyoto considerada una de las mas importante ciudades del Japón sea a nivelar histórico, culinario y politico.
Sin duda alguna os voy a recomendar de visitar esta ciudad porque tiene todo su encanto y si quieres encontrar algun hotel a buen precio os puedo dar el 10% de descuento en Booking.com si haces click en este link.
Restaurante Fukushin en Kyoto 
El restaurante donde hemos comido Fugu se llama Fukushin y se encuentra cerca de la zona antigua de la ciudad de Kyoto.
La familia gerente del local ha sido desde el principio muy simpática, profesional y cordial. Lo mas interesante es que ellos sabían solo algunas palabras de Ingles. Podéis imaginar la adrenalina que teníamos encima sabiendo que estábamos en las manos de personas que nos entendían gracias a gesticulaciones (menos mal que soy Italiano y no se hablar sin gesticular 😂😂😂).
En este estaurante tienes la opcion de comer a la carta o con varios menu degustacion que varian de precio en base a la cantidad de pescado o al método de cocción.
Nosotros visto que estuvo nuestra primera experiencia elegimos un menu que daba espacio para probar un poco de todo.
Menu Degustacion
Empezamos con un Chupito de sake con un trozo de cola del pescado. El liquido en el vaso viene flambeado y tiene que beberse caliente. Cuando tragas el liquido hemos tenido un poco de temblor en los labios, de hecho descubrimos que lo hacen a propósito para que el experiencia sea mas interesante. Os podéis imaginar cuando nos temblaron los labios, que empezamos a pensar no sabiendo esta peculiaridad. Vaya comida rara!
Como aperitivo nos sirvieron unas finitas tiras de Cartilagos de pescado con Daikon rallado, cebolla tierna y ponzu (la tecnica para rallar el Daikon se llama Oroshi y para hacerla se usa un rallador similar a lo de wasabi).
Mientras que hemos comido el aperitivo el dueno y Chef nos cortaba el Sashimi de Fugu. La presentacion de este plato es muy interesante porque intentan emular con el corte muy fino y trasparente un crisantemo, que en Japón simboliza la muerte. La carne no es parecida a ningún tipo de pescado que podéis haber comido hasta ahora, de hecho es precisamente firme y casi como un chicle.
Después fue el momento de comer el Fugu frito (Fugu Karage), la verdad que a diferencia del sashimi esta preparación se quedo muy buena (como se dice, todo lo que esta frito esta rico).
El siguiente paso fue un poco mas intratenido, se trata del Shabu-shabu o in Ingles Hot-Pot.
Nos dieron un focolar con una olla con agua y un plato con varios partes del pescado, tofu, shiitakes, enokis, noodles, verduras etc.  En pocas palabras  pones poco a poco los elementos en el agua y te haces tu proprio caldo y mientras te comes los ingredientes.
Después de esto nos sirvieron un bol que se podría considerar un Porridge. Para hacer este plato usaron parte del caldo que preparamos nosotros y lo mezclaron con huevos, arroz, algas y puerros. Estaba riquísimo acompañado con encurtidos (daikon, pepino y el fukujinzuke).
Acabamos con un Helado como postre (lo siento no tenemos la foto).
Conclusion
La cena estuvo bastante interesante y que estuvimos sentados en la barra,done pudimos apreciar todos los pasos de los Chefs (padre y hijo) y la simpatía de todos.
Intentamos a explicar que yo tambien era un Chef y al final de cena el Chef -dueňo me mostró todos sus cuchillos y me enseño donde ir a comprar unos buenos (de hecho compramos mi cuchillo de sashimi propio en esa tienda).
Otro momento interesante fue la sorpresa de ellos en descubrir nuestras origenes, nunca habían tenido en sus restaurantes personas de Praga o de Cerdeña asi que añadimos un punto rojo en sus mapas.
Que os puedo decir mas, si tenéis intención de viajar hasta Japón es una experiencia que vale seguramente la pena una vez en la vida. De hecho hasta ahore es una de las comidas mas exoticas y raras que hemos probado.
Nosotros podemos seguir contar esta experiencia con orgullo (y con vida 🤪😓).
¿Vosotros tambien habeis tenido la ocasion de probar alguna comida extravagante o muy rara en vuestros viajes ?
¿Teneis alguna comida en vuestra tierra que puede ser considerada extraña?
Escríbenos aqui en el post o en nuestra email, estaremos encantados de contestarte lo antes posible.
Síganos para obtener cada semana interesantes consejos de viajes en los lugares que visitamos, recetas de cocina fáciles y resultonas y reseñas de restaurantes que hemos probado y nos han gustado.